Meet The Team
Put yourself in the hands of the Sunshine Coast's most trusted home builder.
Spani Developments' strength lies in its employees who bring a wealth of experience and knowledge to any building project. Our team will ensure your home is completed with honesty and integrity on time and on budget. More than a collection of talented home builders, project managers, equipment operators, carpenters and finishers, we're a team, and the difference is evident in every job we do.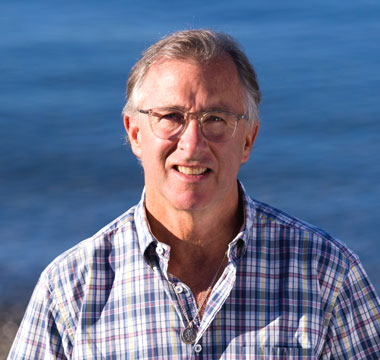 Doug Spani
President
Passion, pride and dedication are a few words that describe how Doug Spani, owner of Spani Developments feels about his company. The Spani name is decades old where Doug started out by working in the family business alongside his father and uncles and founded by his grandfather. Doug's vast years of experience and vision, along with his core values of honesty and integrity, has earned him the reputation of being able to accurately quote jobs on first site. A community man, Doug gets involved and supports a wide variety of initiatives that have contributed to the growth and well-being of businesses and residents on the Sunshine Coast. He is a mentor and a friend to so many. All of this has made Doug a valuable, respected friend and businessman, propelling Spani Developments to be one of the most successful developers in construction on the Sunshine Coast.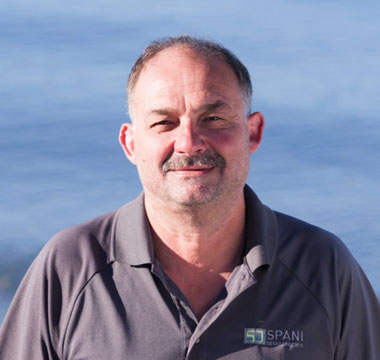 Kevin Holloway
Operations Manager
With over 40 years' experience in the construction industry, Kevin excels at overseeing project from start to finish. Kevin's ability to gain a thorough understanding of his client's needs, problem solve, and manage projects plays a significant role in the past and continued success of Spani Developments. Kevin understands the importance of completing each project on time and on budget. He ensures the highest quality possible is delivered on every project he manages.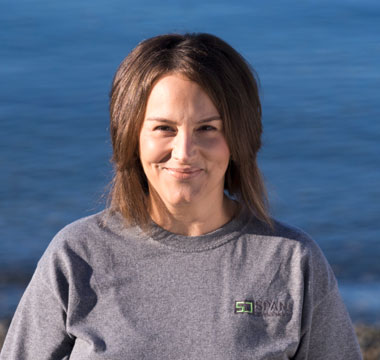 Giovanna Gerencser
Director, Finance & Administration
Accountability, integrity and discipline are just some of Giovanna's core values. Responsible for overseeing the Accounting, Finance and Administrative functions, Giovanna believes that leading in a supportive and collaborative environment is a key component to achieving continued success with Spani Developments.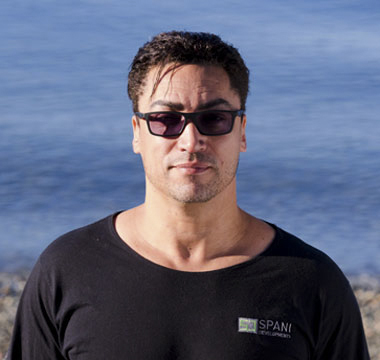 Jordyn Laxton
Construction Safety Officer

With over 30 plus years in the Construction industry, Jordyn Laxton, Construction Safety Officer at Spani Developments has a handle on safety procedures and protocol. Jordyn is responsible for assessing hazardous and unsafe situations and always ensures that all Spani projects are overseen with all safety measures in place. Jordyn enjoys working with the Spani group – "they are decent, quality people, producing professional quality products."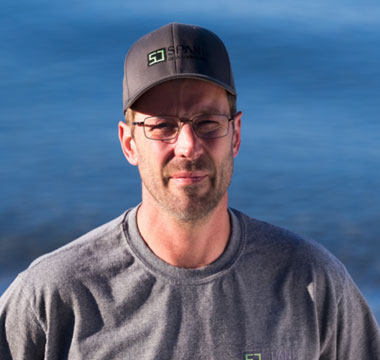 Darragh Workman
Plumbing Manager
Spani Developments has earned a solid reputation in the construction industry because of the wide variety of work projects they do. Darragh's 30 years of experience in plumbing and his role as manager at Spani provides customers with the most efficient plumbing solutions for each unique project. Darragh stays on top of the latest trends in plumbing and has a vast knowledge of all product lines. This enables Darragh to provide multiple options and recommendations to each work project he oversees.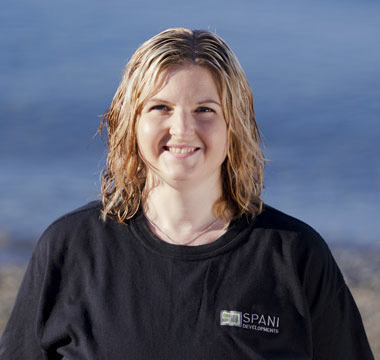 Robyn Rietze
Bookkeeper
When you step in the Spani Development office, one of the first people you may meet is Robyn Rietze. Robyn excels as our bookkeeper which is such an integral part of our operation. Although Robyn's focus is primarily bookkeeping, she has a strong ability to connect with customers and co-workers which contributes to the positive culture that is instilled amongst the entire staff.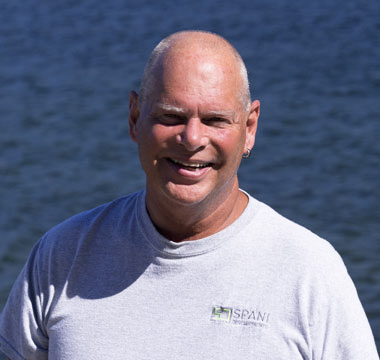 Larry Hunt
Project Manager
Renovations can sometimes be overwhelming, but not when you work with Spani Developments. Project Manager, Larry Hunt's 35 years of experience ensures that each project he oversees is managed efficiently and delivers on each of his client's expectations. He has excellent relationships with the "trades" which allows him to move forward on projects he oversees. Larry's ability to listen to and communicate well with customers, his transparency, and attention to detail throughout the renovation project reflects on the positive experience and feedback he is given on the renovations he manages.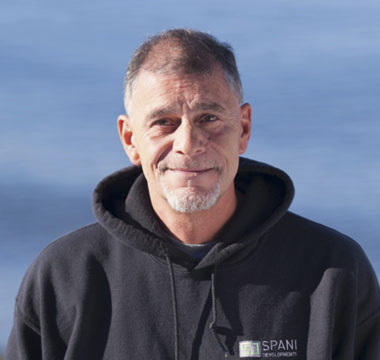 Lew Doobay
Superintendent
A skilled, experienced carpenter is an invaluable asset to any construction company, and when it comes to carpentry, Spani Developments has one of the best – Lew Doobay has worked on a vast variety of projects which include commercial, residential and industrial during his 23 years at Spani. Lew's attention to detail, experience and ability to work efficiently are only a few reasons our customers value his work and sing his praises.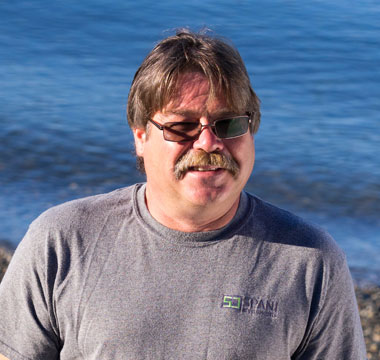 Billy Parsons
Foreman
With the vast scope of projects Spani Developments works on, it is imperative to have an experienced, knowledgeable and top notch foreman, and that man is William, better known as Billy Parsons. Billy is able to lead, support and manage his team because of his experience in all scopes of construction work which started over 30 years ago. Spani's customers are in great hands with Billy on the job.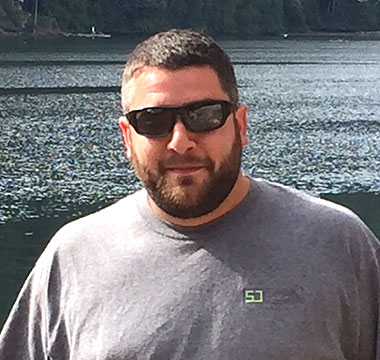 Bryn Foreman
Remote Project Manager
Many of Spani Developments clients choose remote areas to build their dream home on The Sunshine Coast. Bryn Foreman, Remote Project Manager with Spani has over 30 plus years of working with the challenges associated with remote builds, which is why he is the preferred project lead in this field of work. No matter what unique constraints building in a remote location may offer, Bryn and his talented team find the solutions to get the job done, each and every time.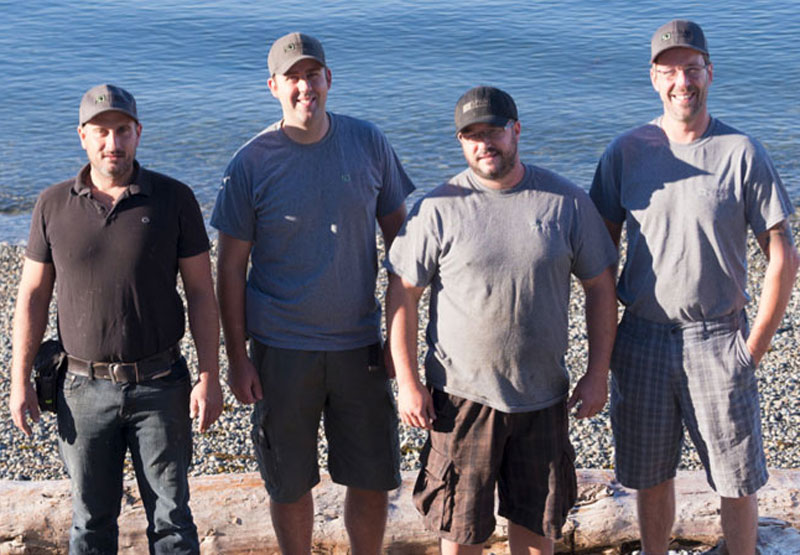 Plumbing Division
(L-R) Stylianos Kandilierakis, Rob Hopkins, Justin Towell, Darragh Workman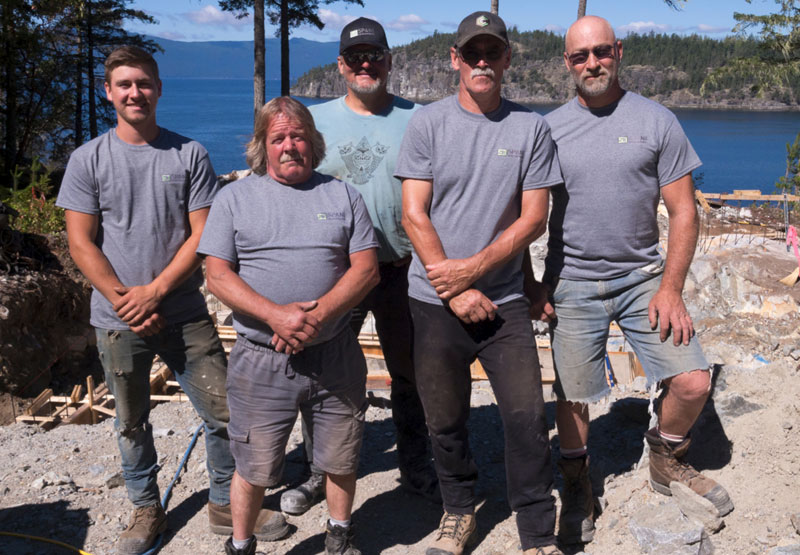 Pender Harbour Team
(L-R) Mitchell Silvey, George Mooney, Collin Murray, Ian Wall, Darrin Nottingham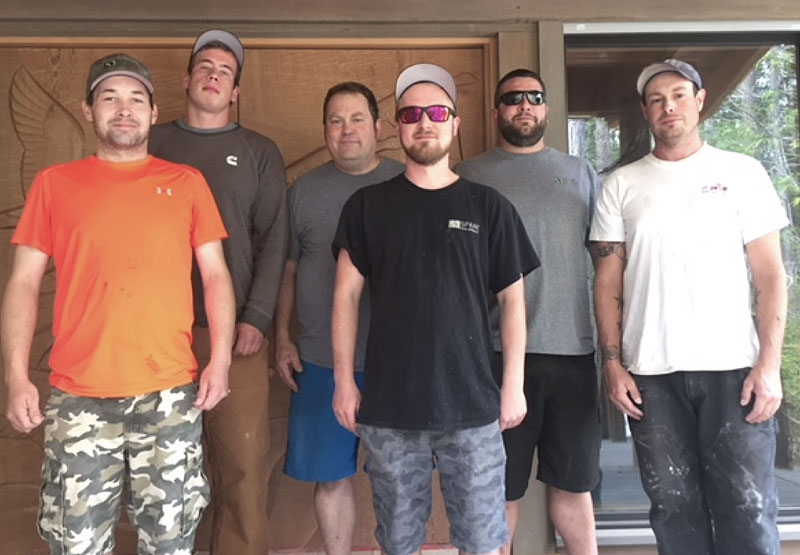 Remote Team
(L-R) Mike Plourde, Ed Wagemans, George Bell, Emry Peterson, Bryn Foreman, Luke Newman